Short Description
This small tool enables you from an email address to reach out to other person social actions or information. For example you can contact the related person/colleague either via Teams Chat or Call or Skype Chat or Phone call. You can open social profiles like HCL Connections, LinkedIn, Delve.
It has powerful features like opening a Microsoft Teams Group Chat to which you can provide a name beforehand.
It works from anywhere where you can get the e-mail e.g. Microsoft Outlook, Microsoft Teams or HCL Connections, Web page in a browser.
How to install
See separate page here PowerTools Setup.
How to use
Select with your mouse elements that contains email information. It can be a list of addressees in an Outlook email or meeting, the email in the visit card in Teams, a page in the Browser (e.g. HCL Connections) etc. Then double-tap the shift key to open the People Connector menu.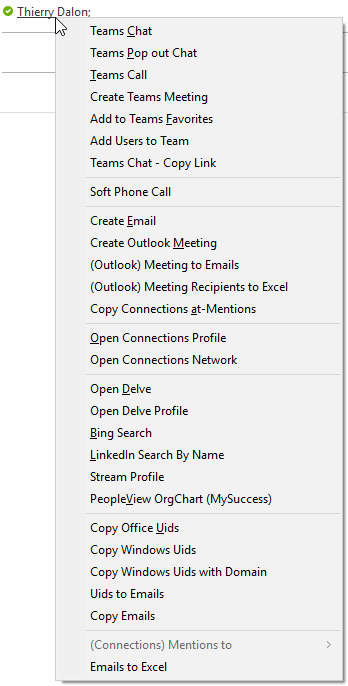 Feature related to HCL Connections
A demo can be seen in this YouTube video explained in this blog post.
YouTube Channel
Main code
The main file for this utility is the PeopleConnector.ahk It is also provided as a compiled standalone executable in the PowerTools subdirectory.